Religious Education
At Wargrave Church of England Primary School (VC), Religious Education is far more than just an academic subject. In keeping with our Christian ethos and vision, we aim to work alongside parents to bring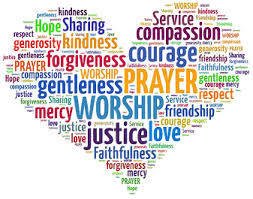 children to a deeper understanding of the Christian faith.
Through explicit teaching about Jesus and the Church, and the development of prayer and worship in school, we provide daily experiences where children live the gospel values; have respect for the opinions and beliefs of others, and grow in their own faith. We see this as our core purpose, and alongside their formation as children of God, we strive to ensure that each child fulfills their God-given potential -academically, socially, emotionally and spiritually.
Since September 2018, we have adopted the Blackburn Diocese Syllabus for Religious Education - Questful RE. By embracing the explicit teaching of Christian concepts and God's big salvation story, it is hoped that the content of this syllabus will give pupils a deeper understanding of Christianity as well as provide opportunities to explore Judaism and Islam.
Parental Rights of Withdrawal in a Voluntary Controlled School.
The Worship and Religious Education provided by school is in accordance with the Church of England. This foundation is also reflected in the curriculum and the whole life of the school community. Since the conduct of school as a whole reflects the Church of England ethos, removal of pupils from Worship and/ or Religious Education (as parents are legally entitled to do) may not insulate them from the religious life of the school.
Prayer Week 2018
We started our school year off with a very special prayer week. All of the children enjoyed developing their relationship with God by taking part in a range of prayer activities.