Welcome to Year 6 at Wargrave 2019-20
Summer Term
Our highlight during lockdown has to be our virtual careers day! The children researched and found information all about their potential future careers. Some children even planned out which university they may end up at! We want to thank all of the parents for their support during lockdown. In addition, we want to assure both parents and children that we have working closely alongside all secondary schools to make sure there will be a smooth and seamless transition despite these unprecedented times.
Please head over to our Class Dojo to catch up with all of the staff. Could you tell us which book you're currently reading and give us your opinion on it? Perfect weather for a good book, and we need recommendations! If you are also struggling to decide which book to read next, there is a website called Love Reading 4 Kids. It's a free reading website where you can search for a book and read the first chapter for free to decide if you like it.They also have a 'kidszone' where you can find competitions and authors reading books etc. Check it out if you like >> https://www.lovereading4kids.co.uk/kids-zone/
Spring Term
We will be working alongside Mrs Kruze, the Year 6 teacher in our partnership school, to plan some cross-school activities, and we will be hoping to organise the second match for our girls' football team. In terms or curriculum, we will be focusing on the circulatory system in science and will be linking this to our PSHE and P.E by discussing the impact of a balanced, active, healthy lifestyle.
History will focus on Crime and Punishment in modern British history, linking nicely to our class text in English: Holes by Louis Sachar. Geography will also link nicely to our English learning: through the use of a sustainability unit called 'Enough for Everyone', children will be discussing world resources, the generation of power and its impact on the earth and Food Miles. This will lead us fluidly on to our class text, 'Exodus' by Julie Bertagne – a text set in a future dealing with the consequences of human actions and climate change.
Religious Education will focus around Life as a Journey, moving into exploring the Easter Story and we will justify the impact of Good Friday on today's society.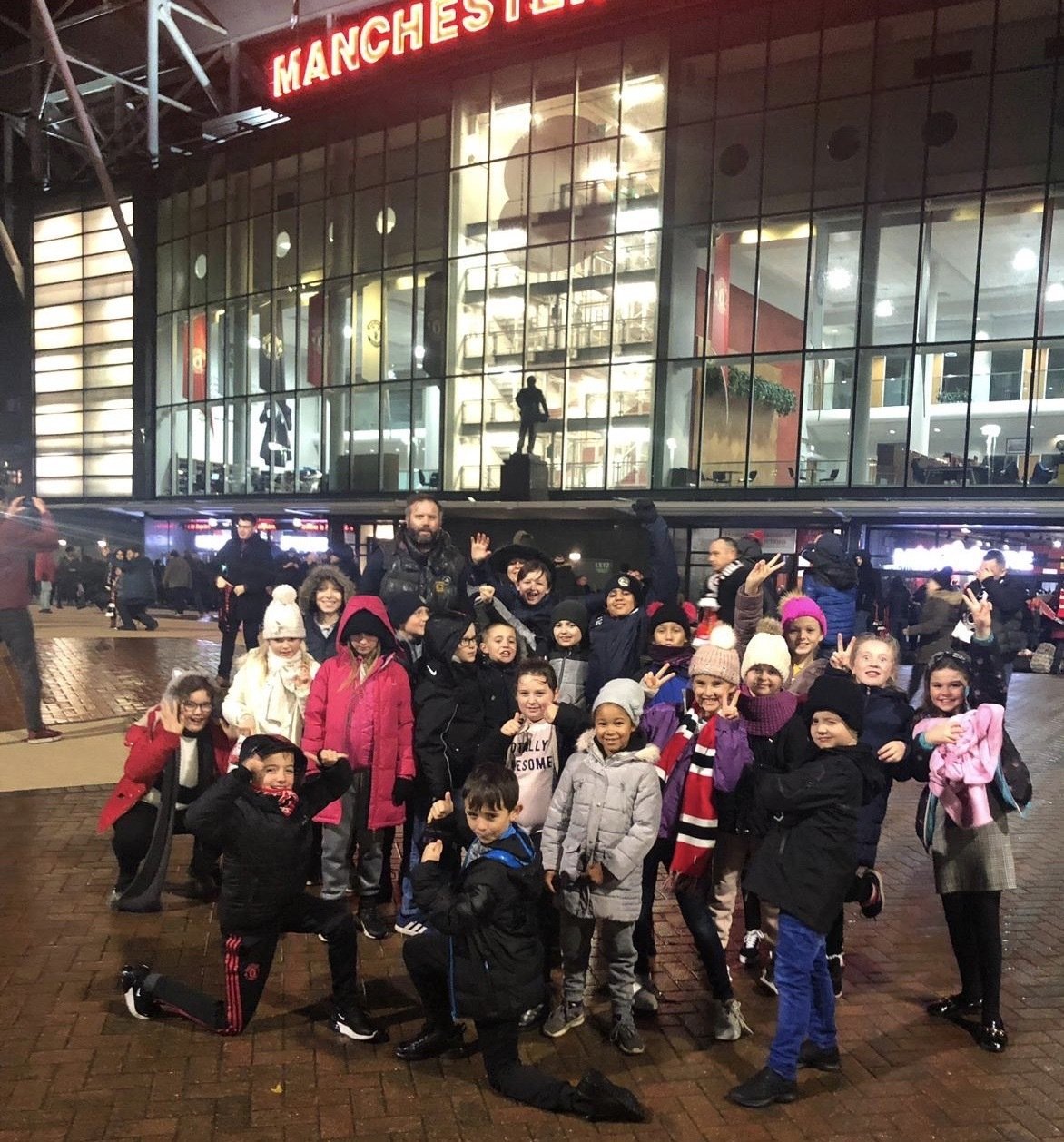 Our trip to Old Trafford! It was an amazing experience to watch live game! Enjoying the trophy!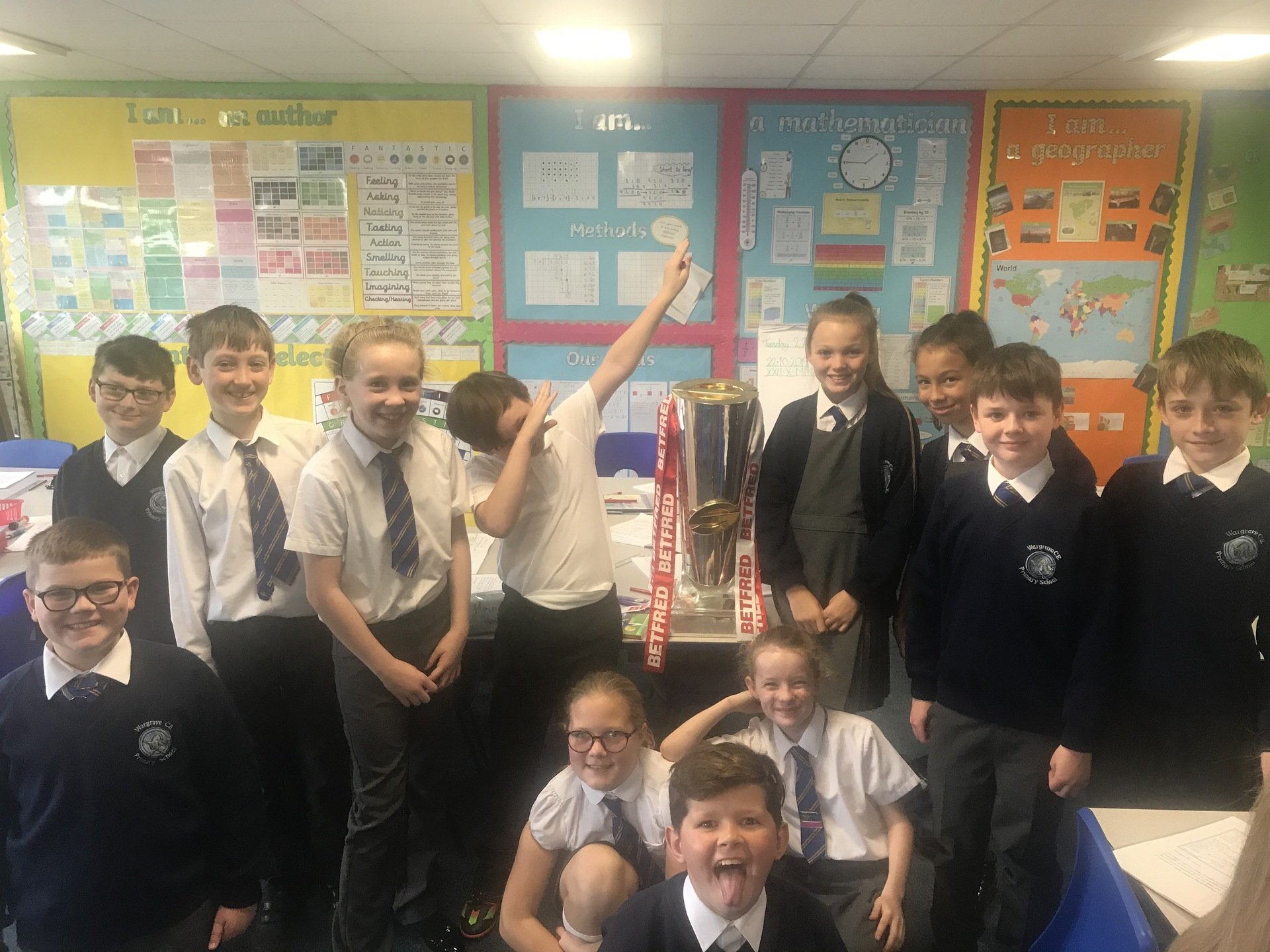 Thank you to St Helens Rlfc for bringing in the trophy for our class!
Autumn Term
WOW! Where has time gone? It only feels like yesterday when we were talking to the children about being independent and stepping up to the challenge of Year 6. We are immensely proud of them! They have gone above and beyond our expectations: each child has their own job, and some of the children help the teachers by 'leading by example' in a subject! We have our reading leaders, who regularly attend Key Stage 1 to help promote reading; our maths leaders, who deliver their own problem solving club every Thursday; and we have our playground leaders who run sports activities at every opportunity. Not forgetting our brilliant digital leaders, who are keeping a very close eye on how technology is used (and respected) in our school as well as taking the lead on showcasing how brilliant our current technology is through their remake of 'T'was the night before Christmas'!
Back to year 6 curriculum… Where do we start? Ever wondered how to survive on an island all alone? Get down to Year 6 to read their first piece of writing on Kensuke's Kingdom, and read their stories of how to survive on a lost island! Kensuke's Kingdom is a fantastic text: it really produced the best in the children and they loved every minute; however, our personal highlight for our writing has to be our visit from 'News wise', who work as part of the Guardian newspaper. They taught the children how to be real-life journalists and they did a much better job than us! After their visit, we continued a two week unit on news articles, and their work blew us away. Please check out our display in the Year 6 corridor if you get chance!
Ready. Steady. Read. We certainly have an inspiring reading culture in our classrooms! Children are excited about reading and this has developed even further with the addition of our 'challenge' books. Our Warbooks Reading area is organised by our reading leaders, and it's been lovely to see the vast majority of children qualifying for the 30 reads pot! We have shared a number of amazing books by authors who have blown us away: Cogheart, Phoenix, A Monster Calls, Of course our reading fairy, Mrs. Flanders, managed to get us a sneaky preview of Shadowsea (Cogheart's sequel!): only out on the shelves in January 2020. We were given the first two chapters, and managed to deconstruct them in our guided reading sessions. We followed our work up by producing some fantastic book reviews.
In maths, we have explored numbers to 10 million, place value, all four operations and fractions! The children are becoming more confident in problem solving and their arithmetic scores are rapidly improving in such a short amount of time. Our enthusiasm for maths is infectious and it is lovely to see the children with the 'I CAN' attitude. We've completed a range of lessons: whitespace retrieval lessons, ensuring everything is embedded into our long term memory; our Maths No Problem lessons, ensuring we are achieving fluency through variation; and some open-ended rich problem tasks for the children to truly investigate mathematics in its purest form. We've been joined by a variety of companies to support out lessons such as the 'Natwest MoneySense' workshop who spoke to the children all about internet fraud, and how to avoid it. They worked in teams to complete an active police investigation to crack down on these sorts of crimes and uncover some criminals!
Thank you to Hope Academy for sending us over some innovative ideas for transitional links with our scientific topic 'Evolution'. These additional ideas really helped us to delve deep and learn all about evolution and inheritance. We learnt about acquired and inherited characteristics; how animals adapt to their environments; the future of genetic mutations and we set up our own enquiry into growth, using scientific enquiry, measuring and recording skills. We have researched Charles Darwin and focused on how he increased the validity and reliability of his findings in a time where society's views were very much against his ideas.
In geography, we conducted a study on The Americas. We learnt all about North and South America and even conducted a fieldwork research project, comparing Mesnes Park and other parts of our local area to a region of the Americas: Death Valley. The children were shocked to discover that Native Americans have actually been living in Death Valley for over 1000 years! Some of them cleverly linked Death Valley our up-and-coming class read, 'Holes' and spoke about the wildlife we could find there.
History lessons have involved making links with other ancient civilisations we have learnt about before immersing ourselves into the lives of the ancient Maya: leadership, their achievements, their society and the possible causes of their decline. We were quite stunned to discover the number of accomplishments made such a long time ago that have had an impact on today – for the time, they were so advanced!
Mr. Ireland has been full of praise for Year 6 for living the value of 'Reciprocity' in Physical Education and has been overwhelmed with their gymnastics performances. Meanwhile, the children have also been preparing for their transition to secondary school by completing an extra P.E lesson with Mr. Holcroft – focusing on invasion games, such as Netball. There are some fantastic players, and we can't wait to see some of them flying the Wargrave flag in their subsequent sports teams in secondary school. Speaking of school sport, the children have also won their first tournament of the year: they were crowned champions of the tag rugby tournament.
Tapping into talents has probably been a personal highlight of this term. After this term, the children will go to other classrooms to share their talents and have a different Wargrave experience. I know most of them cannot wait to join Ms Epstein for some well-deserved yoga; however, this term has been all about exploring the talents of the Year 6 team. Luckily for Mr Holcroft, Mrs Kamczyk and Mr Gorman are incredibly talented musicians so we spent our tapping into talents time focusing around music. The children created their own harmonised performance of the modern day pop song, with festive additions cropping up around December. It sounded absolutely brilliant, and it was lovely to see them getting a different experience which they felt confident enough to share with other classes in school.